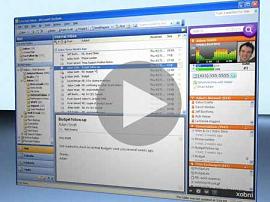 Xobni is a plug-in for Outlook. With the help of Xobni you can search your emails and people quite fast. Whatever you are looking for immediately popups up as you type. For instance you are searching for the emails from 'Jones'. Start typing Jones and automatically as you type the alphabets the search result starts to filter out.
Features of Xobni 4024 beta
Lightning fast email search.
The email or person you're looking for appears as you type Learn More
Email analytics.
Rankings, graphs, and statistics detailing how you and your contacts use email
Navigate your inbox by people.
Discover email's social network – quickly identify a contact's manager, business partner, or assistant
Your personal assistant.
Schedule appointments with a click of a button – Xobni automagically finds open slots in your busy schedule.
Hello, threaded conversations.
Email how it was meant to be read, with conversations in context
Quick attachment discovery.
Historical attachments available instantly without searching
Phone numbers extracted from emails.
Contact details pop into the sidebar – never search for a phone number again