Recently Yahoo.com announced a newer version of their homepage. The new version of the Yahoo homepage is much more interactive, flexible and easy to use. I always had a problem bookmarking or make any page as a homepage of my browser. I mean usually Live.com (formally MSN.com) or Yahoo, or Facebook or Orkut, and so on.. there were so many website which had that button of "Make it your Homepage", but I never cared because there was nothing of my interest in there.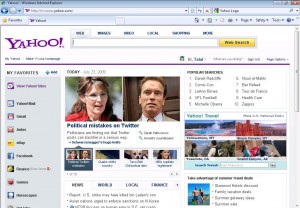 [ad#ad-taalz-inpost-left]Finally I can see Yahoo's new homepage quite a better version of page that I can really make as a homepage. It has facebook integrated in it. I can add Cricket News in it, Buzz, eBay, Flickr Album, Gmail, Horoscope, Messenger, AOL Mail, and many more things. I can signin to my gmail, facebook, AOL mail, flickr account right in the Yahoo's new homepage, and I can see all of those things right from just one single page. (No doubt, Yahoo used the AJAX web technology at its best.)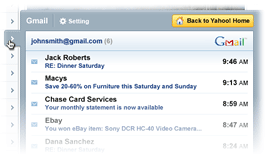 [ad#ad-taalz-inpost-right]In the snipshot we can see the email, facebook, flickr and other account updates. Yahoo used the APIs of different services and embedded them into one single place. By simply using the mouseover on the left side "MY FAVOURITES" menu you can see the content in a pop-under layer. You can customize this left panel menu and add/remove the icons of your choice. (Choice is limited, you have to choose from the given few options).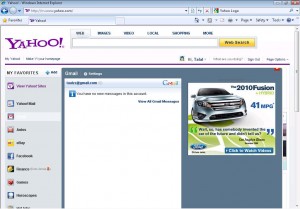 Oh yes! If you can see the screenshot above, you guess it right. Yahoo is using ADs on the right side of these popups. I guess advertising is everywhere now a days.
Final Conclusion:
Yahoo! new homepage brought everything in one place, except Twitter. Yes that was the most shocking thing for me that Yahoo missed out Twitter from that My Favourites menu. Rest of all, I am happy with Yahoo's new homepage because I can finally make this page as the homepage of my browser and get everything at one place.