Google Chrome, the open source browser project by Google was released yesterday for public download in about 100 languages.
Chrome brought many new interesting features like Incognito being one of them. It is a similar feature to InPrivate in IE8 and more commonly known as porn made that allows you to browse the web privately, and no information related to yuor browsing will be saved in your computer.
How To Browse Privately In Google Chrome
If you would like to know how to browse privately in Chrome, follow the steps below.
1. Open Chrome
2. Press the page button (menu) next to the address bar.
3. Select "new incognito window" from the menu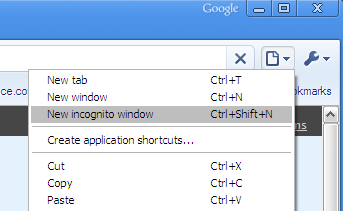 A new window will open in incognito mode which will allow you to browse the web privately and will not store any browsing history or information on your computer.
Alternatively, you can also access this quickly by using a keyboard shortcut: Ctrl + Shift + N
Article by: SizzledCore