Technology is advancing and what we saw in the movies are now becoming a reality. The once concept of a virtual person actually talking and responding to you is now a reality and you can see the very first at the Audi's center in Sydney. The Holographic lady would attend costumers and deliver answers to their questions. The technology has been provided by 3M. On a 10mm thick piece of Perspex runs the Dynamic Vikuti rear projection film. This new addition would certainly attract people and it could dynamically change the way companies used to market their products. Where would the sales man go is the question. 😮
Here is the actual picture taken of the holographic assistant :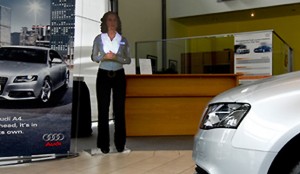 [ad#ad-taalz-inpost-right]The Holographic assistant would deliver more than just answering a few questions. It would detailed explanation of the product and make the consumer feel at 'ease'.
Audi surely shines with such a brilliant edge over the marketers and competitive companies. This technology would surely now go a long way and in the near future you would be able to see such in a store near you !!
Via [ubergizmo]