Motorola created hype for its new tablet since quite long with the new Android tablet OS version honeycomb. Apple last year launched the iPad which gave a new dimension to the gadgets line. Later Samsung launched the Galaxy Tab Android based tablet and became the direct competitor with Apple iPad. Dell also launched Dell Streak which is Windows 7 based. Now Motorola is striking with its Tablet.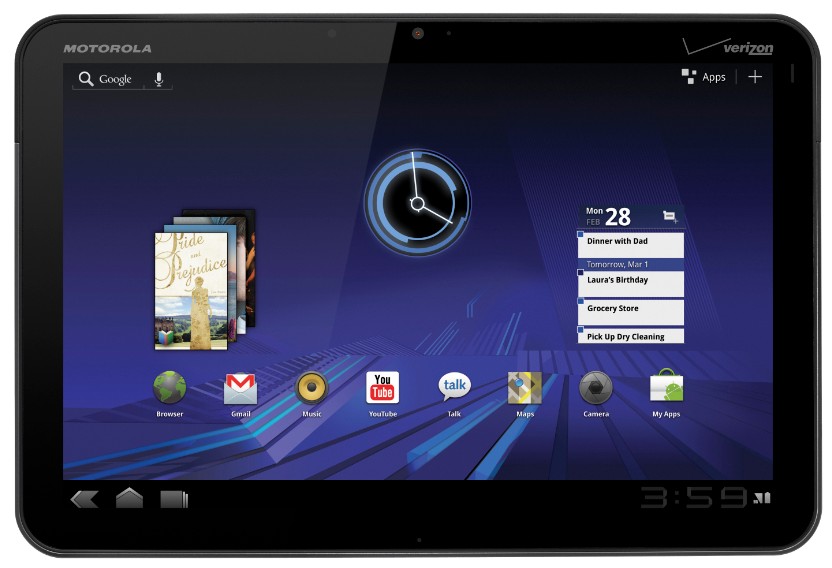 February 2011 Super Bowl was more of an IT related event with all the IT companies giving their TV Commercials during the match. Motorola also on-aired their XOOM's TV Commercial which directly targeted on Apple.
[youtube 8BPFODsob1I nolink]
In this video Motorola showed the same type of outlook which Apple launched in 1984 Super Bowl commercial when they launched Apple Macintosh. White costume people with white earphone wires, shows the direct Apple identity. The guy holding XOOM is going against the crowd, crossing them and reading 1984 George Orwell. Following was Apple's 1984 Super Bowl TV Commercial:
[youtube OYecfV3ubP8 nolink]
Before the actual announcement of Motorola XOOM, Motorola had been releasing some commercials showing the upcoming of something new from Motorola with the Red logo. In this commercial they showed that 1984 was pretty much like 2011 but there is a long distance between them. Motorola XOOM is with dual core 1Ghz Processor, Android 3.0 Honeycomb, 1080p HD Video playback, 5MP rear camera and 2MP front camera.
[youtube ndhuEUX1kIU nolink]
And even before this commercial they showed iPad and Samsung Galaxy Tab as ancient things in a museum, and its time for something new coming from Motorola
[youtube quI2I8wLPdc nolink]
A month ago, Motorola when introduced XOOM, it showed something like this:
[youtube D7zheLybA-Q nolink]
It was expected that Motorola XOOM would be priced $699 but later Engadget post showed that on Best Buy it is coming out for $799 and will be available after 24th February 2011 with Verizon. Motorola XOOM page on their website is also active now.