Even after the launch of IE9 Beta by Microsoft, still the market trend of IE is falling greatly every month. Last year in September IE held the market with about 60% users, whereas this year it has dropped below 50%. IE8 was pretty good, but the new IE9 Beta is extremely better than the last one. Microsoft is trying to get back into the market with their new IE9.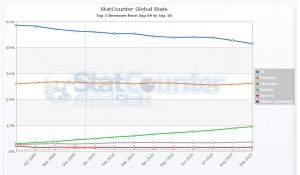 [ad#ad-taalz-inpost-left]MSIE9 is still in the beta version and by using it, I was pretty much happy. But IE9 Beta has one issue which I faced and the other one is generic that you cannot run IE9 on Windows XP. Windows XP users are still around 60% who are accessing the Internet and amazingly Microsoft neglected that huge number. IE9 is only supported with Windows Vista and Windows 7 which has around 16% and 21% user respectively. For such a little audience IE9 was launched? I'm amazed Microsoft, I hope the marketing team will re-think of this issue. The other issue that I faced in IE9Beta is that, it is caching my every page, even the SSL site. I logged in to my Windows Live Mail, I received a new email and my IE9Beta was not showing it up. I refreshed three to four times, but still nothing. I opened my mailbox in Firefox, and I got to read my new email whereas IE9Beta was still not showing me the new email. It was opening my mailbox very very quickly, so what I figured out was that may be Microsoft is going to trick the users with the 'caching' technique which will result in as a fast Internet Browser.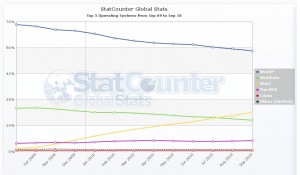 [ad#ad-taalz-inpost-right]Firefox on the other hand is supported with every operating system and is improving day by day with their new versions. Firefox is fast, reliable and is liked by many users. The problem I discussed with you about the MSIE9 Beta cache was initially an issue with Firefox too. Now with the passage of time they have fixed that issue, plus all the CSS style sheeting issues which were a heck for the web designers to build websites that support cross browsers.
[Content extracted from: GS-StatCounter]