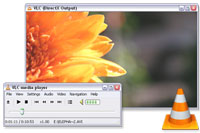 Playing video files of different types is a problem for the generic Windows Media Player. You need different codec to play files such as .avi files which are converted using XViD or DiVX or any other such type of encoders. So VLC Media Player (VideoLAN) is one of the best players that I came across.
The best part of the VLC Media player is that it can play all type of multimedia files including audios and videos (MPEG-1, MPEG-2, MPEG-4, DivX, mp3, ogg, Matroska .MKV, etc.). It can play VCDs, DVDs and also streaming media over the Internet or Intranet lan network. You can use it as a streaming server also and use VLC media player to stream a movie or video in unicast or multicast mode over IPv4 or IPv6 networks. The only media file that it cannot play is the REAL MEDIA files. I wonder when they are going to include the codec for RM in this player.
Supported Media Files:
MPEG (ES,PS,TS,PVA,MP3)
AVI
ASF / WMV / WMA
MP4 / MOV / 3GP
OGG / OGM / Annodex
Matroska (MKV)
WAV (incuding DTS)
Raw Audio: DTS, AAC, AC3/A52
Raw DV
FLAC
FLV (Flash)
Standard MIDI
Creative™ Voice
Download Free VLC Media Player 0.9
Other operating system versions are also available.
Mac OS X
BeOS
Syllable
Debian GNU/Linux
Ubuntu
Mandriva Linux
Fedora
openSUSE
Familiar Linux
Red Hat Enterprise Linux
Slackware Linux
ALT Linux
Arch Linux
YOPY/Linupy
Zaurus
Over 18,024,000 times this player has been downloaded from the Internet. On average 4.6 downloads per second.