Samsung is on a high with its new mobiles coming out.Mobile phones are now a complete accessory,which can do almost everything concerning your daily work like from making calls to listening music or videos or even full version of movies.Samsung now has officially announced its new mobile which has a DLP Pico Projector in it.he mobile would be called i7410 in Europe & W7900 in Korea.
The projector can display images upto 50″ if the light conditions are perfect.It such an amazing combination for the business related costumers because they can present sideshows and deliver better in the office.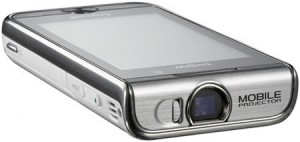 It also a best option for you to play your videos in a very good resolution display.The mobile has a built-in speaker specially designed to fit the projector's sound needs.
[ad#ad-taalz-inpost-left]Moreover the mobile phone has a efficient 5MP camera,high resolution OLED touchscreen and a nice flick feature to present pictures on a slide show in a easy and convenient manner.
The price of its however unknown.