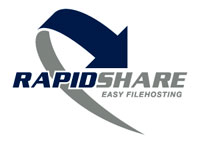 Rapidshare.com was founded just 3 years ago in year 2006 and became the world's best file hosting and file sharing service. Rapidshare is currently hosting several petabytes of data with hundreds of gigabyte bandwidth Internet connection to their servers for providing the users with a free file sharing / file hosting service. During last year rapidshare changed an overall interface of their website and now rapidshare is going to provide even a better interface for their premium account members.
People get bored with the same kind of layout of the websites which they visit regularly and the human mind is always looking for a change. Many mature companies over the Internet and related to the IT field realize this issue. Recently the same kind of file hosting / file sharing service megaupload.com also changed the whole overall layout interface of their website to make it look cool, simple and user-friendly for their visitors and  users. On the other hand even the social network sites are always keeping up the pace of not letting their users get bored of the same old interface and a week ago facebook introduced their new layout interface too but it flopped badly.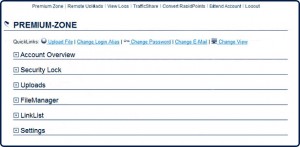 [ad#ad-taalz-inpost-right]So far rapidshare has only announced the premium account interface upgrade to make it more simpler and easy to use. For further details on the new rapidshare premium account interface please visit : http://rapidshare.com/rundgang_pz.html
The new interface also has a folder feature in the file manager. In the file manager you can categories your files into folders and keep an easy track back of them. Creating linklist in the new interface of rapidshare.com premium account is quite easy than before. Overall, This new interface looks pretty need and looks very friendly to me. It is using AJAX controls which let you edit and update your settings, links, file manager, uploads, linklist on one single page.