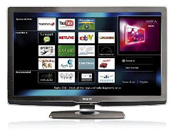 Philips Electronics is striking again in the market with their new products. Philips 8000 Series and Philips 9000 Series Internet Televisions are the upcoming products by Philips. There was a time when people were searching for sources to watch TV channel online live on their PC. But now the time has changed. Its hard to get your hands of the computer because its all what you need don't you? The once used TV in your room may be looking now like a old decoration piece, as the computer allows you to watch your TV programs online. Its now a reality that the mobiles and high-tech computers are taking us all by storm. I remember how I used to watch shows on my TV and then I see as of today, that I do it on my computer. But Philips has some other plans, they have announced to invest in the Internet@TV technology.
Internet@TV is such a great technology that would allow you to browse through websites like YouTube, TomTom, eBay, MeteoGroup, Funspot, MyAlbum and Netlog. You can watch live streaming movies and films on your TV. The new LCD TV sets which are based on InternetTV Technology has an Ethernet port, where you can plug in the connection to your Internet. YouTube has launched the HDTV version of their website just because of this InternetTV so that users can view their favourite videos, movies, music videos, and funny clips on your Internet TV. The Philips 9000 Series Internet @ TV set has a Wifi Wireless connection support.
Recently announced Samsung's new Luxia LED HDTV on CES09 is also based on the Internet@TV Technology. Microsoft has also announced their own Internet@TV called "Microsoft Mediaroom" with the collaboration of SingaTel and MIO.
[ad#ad-taalz-inpost-right]Philips Internet TV will be available in two series:
8000 Series: This would use a wired connection
9000 Series: This would work on a WiFi connection
Using a remote the user would navigate through channels and websites. However there is no keyboard for the internet usage, but it would be so nice if they add this up.
The Philips Internet TV would be launching in April 2009.
Via [techfresh]