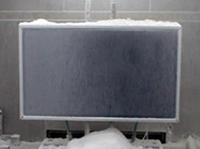 SONY is going all wild with the introduction of their new 65″ GXD-L65H1 LCD, making it totally water proof and freeze proof. All over the news of this launch is making people think that what really could be purpose of making such a LCD. Well all one can say is that, it is meant to attract the consumers from the 'North Pole'. In my opinion i don't find any usefulness of this Waterproof LCD, why would someone actually buy a $20,000 LCD just because it waterproof and cannot be frozen. I think SONY has gone a little too much out of the box !!.
Here is a demonstration video, in which freezing cold water is thrown on this new Sony waterproof LCD GXD-L65H1
[youtube DCETpT2bhWo nolink]
[ad#ad-taalz-inpost-right]Now the point is, what impact would this new 'cool' TV may have on the consumers. This could be just a publicity stunt made by SONY just to get some attention, but it doesn't seems like this. Because to make a LCD which can withstand a freezing temperature and also water proof is certainly a work of great technology. However, the consumer would be thinking whether to buy this high-tech waterproof LCD TV or not. In my opinion this new LCD TV would not get much consumer response, but would sure get huge attention.
Moreover, SONY says that the quality of image and display has been taken seriously and its a complete LCD TV which in-corporates features which other LCDs have. Other than all that SONY will be using Aluminum frames to make it dust proof.
The price of Sony Waterproof LCD TV GXD-L65H1 is US$20,000.
Via [wired]