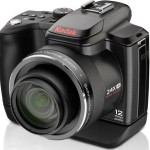 Kodak the leading manufacturers of cameras have announced their upcoming Z980 digicam which boosts smart capture enabling a better picture quality.Kodak will make this camera easy affordable,to get better consumer quantity.The features of this new cam are very noticeable,lets see some:
26mm wide angle/24x optical zoom lens.
HD picture
Video capture
Vertical shutter release
Detachable vertical grip
Hot shoe for KODAK P20 flash.
12 MP for 30″x40″ prints.
3 indoor and outdoor color display.
Compatibility with WiFi memory cards.
The price would be around $400.