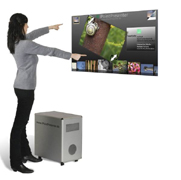 When someone says 3D, your mind would come up with 3D glasses and some movies. 3D technology is a really nice one, as you get a whole new experience watching stuff. I remember watching a 3D cartoon movie once, it was really good specially the cute glasses they give :). Now, the whole idea of 3D technology is going to be changed with the iPoint 3D designed by Fraunhofer-Gesselschat. This technology would help you control your 3D TV and computer, simply with your hand gestures. The best part of it is that you require no glasses do this.
The iPoint 3D works with the help of two Firewire built-in cameras, which could either be placed on top of the roof or on a table . When you move your hands, the communication starts and you may control on the screen what you like too.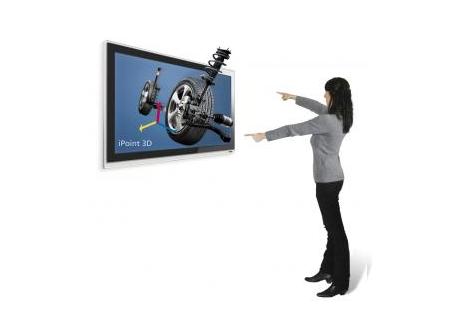 [ad#ad-taalz-inpost-right]This technology can be really useful, specially where you don't want to use hands. Like in the kitchen, when you need to change the channel and your hands are all covered in flour etc. It can be most helpful in hospitals, during complicated surgeries. I guess there is an evolution of 3D products now, previously I also wrote a review on 3D object scanner. So, finally the technologies once shown in the Star Trek, Ironman and Batman are coming to reality by the invention of these products.
However, it is not getting commercial and there are no news when it would be. But it would so cool if it comes as soon as possible.
Via [physorg]