HTC is trying to cater up all the different users market with their variety of smartphones. They introduced number of handsets with Android operating systems and were also the first ones to make Google's branded smartphone handset. There are different type of smartphone lovers, some like touch screen, some go with the numeric keypad and there are some who love the QWERTY keypad. Yes! HTC ChaCha is for QWERTY Keyboard lovers.

Specification of HTC ChaCha:
GSM 850/900/1800/1900 and HSDPA 900/2100
HSDPA, 7.2 Mbps; HSUPA, 384 Kbps
2.6 inches TFT capacitive touch screen (256k colors)
480×320 pixels resolution (~222 ppi pixel density)
Gorilla Glass Screen
800 MHz processor
512 MB ROM, 512 MB RAM
MicroSD memory card supports upto 32GB
QWERTY Keyboard with Facebook quick status button
5 MP camera, 2592 x 1944 pixels, autofocus, LED flash with Geo-tagging and face recogination
Video recording D1 (720×480 pixels) @ 30 fps
Wi-Fi 802.11 b/g/n, Wi-Fi hotspot
Bluetooth v3.0 with A2DP
microUSB v2.0
Battery Time:
Stand by: Up to 430 h (2G) / Up to 660 h (3G)
Talk Time: Up to 7 h 30 min (2G) / Up to 7 h (3G)
HTC ChaCha – Design:
The smartphone design is very curvy and very beautifully built. The set is very easy to handle and comes very comfortably in palm which makes it easy to hold. The 2.6 inches screen at the top is a touch screen with a very good capacitive touch, though it's just a 256k color screen but you cannot tell the difference much when compared to the other same price ranged phones. The shape of the handset is not flat and is tilted upwards from the top which makes the screen pop up. Without any doubt I can assure that HTC ChaCha has the ever best QWERTY keyboard. I have used many other QWERTY smartphones including BlackBerry and Nokia but HTC ChaCha ruled out all the others. The keys of the QWERTY keypad are perfectly designed and positioned that every single key comes directly under the finger tips. Beside that the keys present in the keyboard are the ones which are commonly used unlike some of the other keyboards which create a mess with buttons and have to press FN key to access the other useful symbols or characters. The best part of the handset is that it's a Facebook dedicated handset. At the lower right side there is a Facebook key which helps you update your Facebook status instantly. The headphone pin area is at the top of the handset this makes it easy to plugin the earphone pin if you are keeping your phone in your shirt's upper pocket.
HTC ChaCha – Display:
As mentioned above that the screen of the handset is 256k colors but you can hardly feel it or differentiate it with other similar price ranged phones. The Gorilla glass screen makes the screen sharp in addition to the ~221 ppi pixel density used at 480×320 resolution screen. The capacitive touch screen is very good and sensitive which can be used with finger tips easily. I agree that a 16million color screen would have been much better but as this phone is built with good specs and keeping the price low, so it's more than enough. The screen can easily be seen under full sun light in the day and is quite bright in the dark night. There are different panes on the home screen but unlike EVO 3D you cannot rotate them in a cycle and are highly customizable.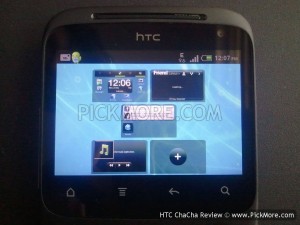 HTC ChaCha – Processor, Memory & Performance:
HTC ChaCha is quite a stable phone when using it even for a longer period of time. Usually phones get slow after two weeks of usage when the data starts to flow through the phone. I saved upto 280 SMS text messages and over 40 MMS in the inbox and the handset was working perfectly and the performance did not lower down. Processor of HTC ChaCha is a simple 800 MHz but quite enough for an Android Gingerbread to operate and I don't find much lag in the set. Obviously I cannot compare this handset with the high-end handsets like HTC Sensation or HTC EVO 3D which I reviewed last month. HTC ChaCha is a mid-range phone with Android 2.3 Gingerbread. The RAM of the handset is 512MB which again is quite sufficient for mid-range smartphone.
HTC ChaCha – Camera & Video Recording:
5 megapixel camera with Auto focus and LED flash light, what more one would need? The camera is capable of taking high quality pictures at 2592 x 1944 pixels resolution. The auto focus feature helps it a lot and beside that the flash light is very good. (I also used the flash light as a torch with torchlight app and the light is very good).
The video recording capability of HTC ChaCha was not high definition but still very good. If I have to compare the camera of this phone then I would say that it is close to Nokia N95.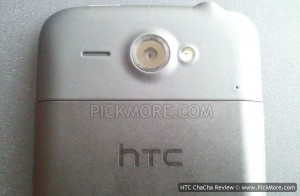 HTC ChaCha – Battery Life:
As I mentioned earlier that HTC ChaCha is a mid-range handset with 800 MHz Processor and a TFT screen which makes the battery life of the handset quite good. I tried the handset with four different ways for its battery consumption: WiFi usage, GPRS usage, only calls and SMS, Standby. In all the conditions the battery life of HTC ChaCha as an Android handset was pretty impressive.
HTC ChaCha – Verdict:
If you are a QWERTY Keyboard lover and you are a fandroid then you SHOULD NOT miss this amazing smartphone. HTC ChaCha's QWERTY keypad is without any doubt the ever best keypad I have used. The name of the smartphone "ChaCha" looks a little strange but once you are using it, you will forget everything and will fall in love with the handset. The screen size is small which might become a hurdle in one's mind while making a decision to buy it or not, but the best ever QWERTY keyboard takes over this little negative point. Battery performance is quite good too, and can easily give up to 2 days of battery life with normal usage and with high end usage, the battery drains in around 12 hours. Camera 5 megapixel which is quite good and most of the latest handsets still have 5 megapixel though the video is not HD but still quite good enough if you are considering a phone as a phone, not as a camera. The booting speed of the handset was okay too (again, you cannot compare it with the high end sets coming up these days).