I have seen many computer users who dont even know how to change the file extension of a filename in Microsoft Windows operation system. I wonder why people use computer then? I guess instead of buying a DVD Player people started buying computer systems, with a thought that DVD Player can play DVDs only, whereas a Computer can play DVDs + It has an Internet. Wow! Double Credits 🙂
Ok here is a small guide on how to rename the file extension of a file in Microsoft Windows Operating System
1. Open My Computer.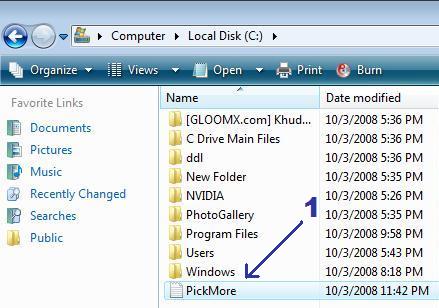 In the following example. I am taking a filename Pickmore.txt file located in the C:\ Drive of my computer and yes! I am using Windows Vista. Don't worry if you are using Windows XP. Options are pretty much the same as Vista.
2. Click on the Organize option that you see in the left upper corner. When you click it, from the drop-down menu, select FOLDER AND SEARCH OPTIONS.
(In Windows XP/98/2003/NT, on the top you will see some options like FILE, VIEW, EDIT.. from there goto the TOOLS option and I think the last option in that drop-down menu will be FOLDER OPTIONS. You need to select that)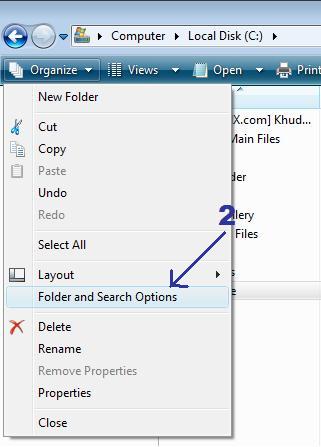 3- Now in the dialog box select the second tab VIEW, (as you can see in the screenshot below). From there look for the option saying "Hide File Extensions for known filetypes". By Default it will be checked (by checked I mean there will be a tick on it), you need to uncheck it (click it once and the tick will be removed). Now simply Click Apply or OK button.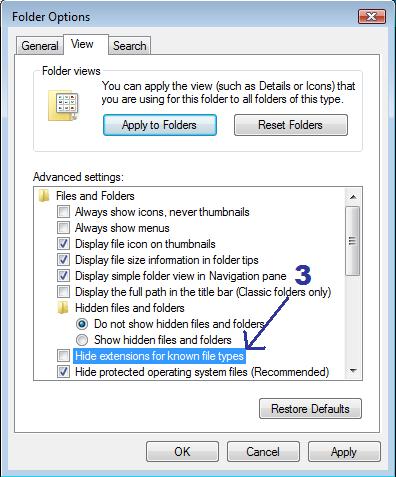 4- You will see the file extension of the files, after unchecking that option.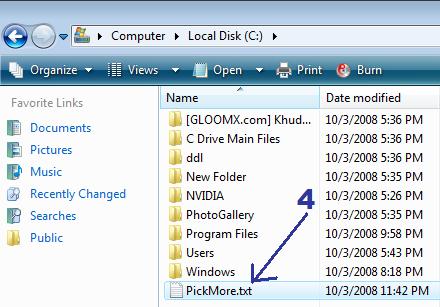 5- Now you can simply rename the file. Right Click on the file and select the rename option, or you have to double click the file with a little pause between both clicks.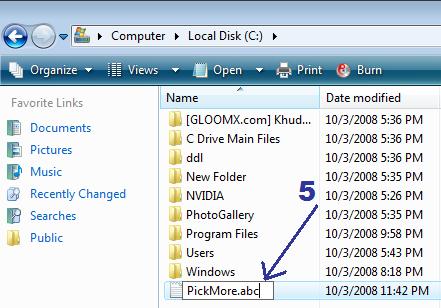 Here you go! Your file extension is changed 🙂