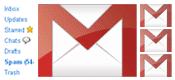 Google Labs is working days and nights to built new features for Google. Today Google released a new feature for Gmail called "MultiInbox". Now you can have mulitple inbox canvases on your gmail inbox page. You can create filters and apply them using simple gmail search commands.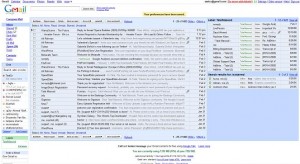 In my Gmail account I import emails from my other external accounts too. It means I use my one gmail account and use several email addresses through it. I created labels for each external email. Now with this multiple inbox mod for gmail, I can easily view upto 5 different filtered results on my inbox page. After you enable the Multiple Inbox mod from the Glabs, you will get another new tab in the settings of your gmail account with the title "Multiple Inboxes".
Some common commands to use for multiple inbox settings:
is:starred
It will filter out all the email which you have starred.
label:<labelname>
With the help of this tag you can filter out any specific label that you want. For instance you want to filter out emails which you have labeled as My Love, then you will simply need to write label:My Love.
is:spam
Will show all your emails from your spam box.
in:trash
Will filter out the emails from your trash can.
in:chat
Yes! you can see the history of your google chat.
in:draft
If you forgot something in your draft yet to mail. Here is your command to have it in your inbox.
…. there must be some other commands too which I could not figure out in this limited time. If any of you finds new commands, I welcome you to post in the comments!