Marketing  your product and doing it well is the best way to survive in this rushy market, where every now and then you are getting the best than the best. Calvin Klein a very well known company has realized this fact, and has done something very different to get the spotlight back on them. They are now running a new campaign "we are one" and for this they have launched the Calvin Klein One Perfume. But this only is not the story. The perfume bottle has a detachable mp3 player speaker !!
Here is the pic of the perfume bottle 🙂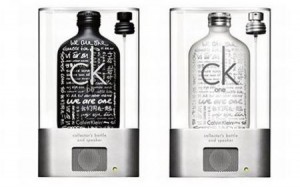 [ad#ad-taalz-inpost-right]This kind of advertisement can have both a negative and postie impact. Negative in this sense that people may think that CK has gone kinda desperate to bring back their name up by using such 'silly' ideas. And positive, because some music lovers and geeks can totally go for this offer. However the results cannot yet be decided.
Its a unique approach however to bring some tech into the product. The bottles come up with the "we are one" slogan. And CK is going world-wide with this new campaign.
Calvin Klein One Perfume price would be $50.
Via [SlipperyBrick]