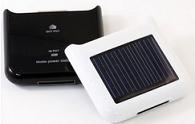 SolLight introduced a solar power charged rechargable seperate battery for iPhone, iPod and iPod-Touch. SOLiCharger battery provides 50% full charged backup to your Apple iPhone, iPod or iPod-Touch. The charger connects to the iPhone terminal and there is no need cord or anything.

Quick Feature Overview
Solar-powered!
Works with both original and 3G iPhone
Plug the SOLiCharger into your iPhone or iTouch to automatically charge your iPhone or iTouch battery
Built-in solar panel on the back side that will fully charge it in just four hours of sunshine
Weighs only 1.4 oz.
Charges quickly in one of four ways:
Directly from the SUN! Free solar power!
Directly from your computer via the Apple/USB cord
Directly from the 110v Apple® USB charging cord
Directly from any 12v Apple compatible car charger
You can charge the iPhone with the SOLiCharger and charge the battery at the same time too. The SOLiCharger is charged fully in 1.5hours and then can charge your iPhone upto 50%.
The charger is available in two colors: White and Black.
Cost: $39.95
[Via: SolLight]