When a good new mobile is comes out the its the talk point among many in the market.And one more thing that happens is,other companies try to get their aims high to get something like that in the consumer market.Lately Samsung launched there eco-friendly and solar powered fully enabled touchscreen phone and now its LG which has introduced its own version of the same concept.
The battery side of the mobile is just like the Samsung one,with a solar panel giving the mobile its charge.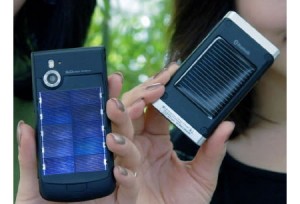 However,it is not yet confirmed whether the mobile comes up with the same specifications as the Samsung Blue Earth or it is just not like that.The speculations are high about the Blue Earth,but LG hasn't talked much about there mobile phone.
[ad#ad-taalz-inpost-right]It is being said that LG solar mobile doesn't carries much or same features as the Blue Earth has.LG says that this mobile would be a good addition in the race of producing solar charged mobile phones.
The company would be using recycled material for both packing and manual book paper.Both LG and Samsung would be launching there mobile phones in the Mobile World Conference,starting  February 16th and ending on 19th.