Samsung made a good show at CES2009 today, by introducing two high tech products, the Luxia LED HDTV and Samsung P3. Samsung P3 is a new touchscreen multimedia player. The P3 has a WQVGA 3-inches touch screen which gives a wide space for the users to play around. P3 shows you the high quality images and videos in 16:9 ratio. And yes, the feature that iPod does not have – A speaker! Samsung P3 has a built in speaker so that you can enjoy your rocking music load and clear.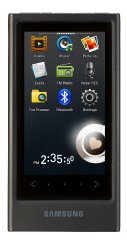 Samsung used DNSe 3.0 technology in this new gadget which enables to listen to have a crystal clear and crispy sound as it is originally recorded. Oh yea! one more thing that I would like to tell you and shake the earth under your feet – You can answer your phone calls through your player! Voila! spanking the Apple iPod and iPhone, this device has a Bluetooth which enables you to connect your player with any Bluetooth enabled mobile phone and answer your calls! It has a built in microphone for this purpose in addition to the voice recording feature. For radio listener it has a FM Radio in it too.
It will be available in the US market within the first quarter of 2009 in four different capacities 4gb, 8gb, 16gb and 32gb and in black or silver casing.
Source: Samsung