One of the biggest and most complex answerable question is that how search engines especially google see your website to list it in the search engine. Everyone has a different point of view. I have already described in an article a while ago some of the important tips for web developers while designing their website. There are yet little but very important issues which you have to keep in mind while making a website. Usually these few things were ignored fully by web developers.
So coming back to the main point – How Google see your website? There are different concepts. The answer to this is, only the google crawler reads your website. Google crawler does not see your website in a graphical look. Rather it see your website in a fully text version. Do you remember the old days of MS DOS! Yes, the Google crawler reads the content of your website exactly like that – Just the text. So my first major tip for you web developers is, you must use the text on your website rather than straight images. Even if you are using images then do keep my 5th point in my previous article of 5 SEO Tips to keep in mind while developing a website.
According to Google guidelines, Google tells clearly that your Meta Data (Tip#4 of my article) is quite important. Google crawler needs to know the data-type of your html page content. So the Data Type (brown marked on the image below) is quite an important thing for the crawler. It is just like, If you know English Language obviously you won't understand Arabic or French or Chinese. Similarly, this data type tells the crawler that in which type of encoded language your html document is written.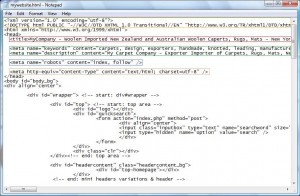 Ok, so the question still remains there that how the google see your website. As I have told you above the google only see the text on your website. So to better optimize your text on your website. I recommend you to check your website using Lynx Viewer Browser. This browser only reads the text on your website and you can clearly have an idea that what actually all the search engines are extracting from your website. The best online Lynx Viewer that I have found is by YellowPipe. After developing your website you must have a look at your website with Lynx Viewer by YellowPipe.
By chance I viewed one of the best designed and fully optimized website of mine Pak-SMS.com on the Lynx Viewer showed me the best result. Pak-SMS on Lynx Viewer showed every text and links that are appearing on my website.