Google the world's biggest search engine is always looking for new techniques and try different algorithms for the searchers to reach the closest results what they are looking for. Google index the most number of websites in their search and it is increasing monthly by huge numbers. Google yesterday announced a new way "Google Instant" for searching.
Simply start typing and Google will start searching. And it also give you Google suggestion (auto-complete) while you type. Now you won't have to type the keyword, click on the search button and wait for the result. By wait, I mean just 0.28 seconds 🙂 Yes, the new Google Instant get down to your searched result even faster than that.
[ad#ad-taalz-inpost-right]"Google Instant will save 350 million hours of user time, over a year", Marissa Mayer – Vice President, Search Products & User Experience.
That's quite a huge number of hours. I tried searching my blog pickmore.com over Google instant and the result was display in 0.12seconds.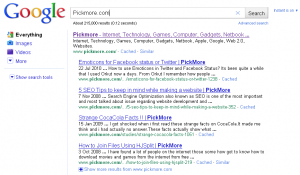 Now the question arise, Is Google Instant Better Way to Search or Not? My answer to this question is obviously YES! The people sitting in the Google office are not dumb. They actually think of things going better and better. Its simply fascinating that you don't have to click or hit enter to search. Simply start typing and you start seeing your search result.