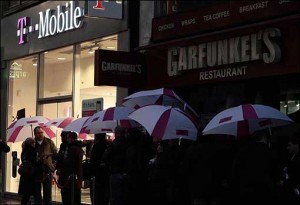 After a long wait Google Android OST powered Mobile Phone T-Mobile G1 has been finally launched in UK. According to a T-Mobile spokesman, People started gathering at the T-Mobile outlets as early as 5AM in the morning at Oxford Street, London and got in the queue to buy the new Google's G1 Mobile Phone by T-Mobile.
T-Mobile offered free Google G1 Mobile phone with their one-and-half-year contract at £40 pounds per month.
T-Mobile G1 mobile phone is powered with Google's open source mobile operating system called Android. It is manufactured by HTC. So inshort it was a joint-venture between three giant companies – Google, HTC and T-Mobile. Microsoft in return to Google Android say that it is quite similar to Microsoft Windows CE. Microsoft Windows CE is the mobile operating system by Microsoft. Google stepped into the huge market of mobile phones where giants like Nokia, Blackberry and Microsoft is already in the market; still it is seen that G1 is only targeting the competition of Apple iPhone.
As already told Google G1 is based on an open source platform, so similar to the Apple Store, Google is letting everyone develop applications for their handset. It is also heard that the prices of G1 was lowered down in the US to boost the volume of sale.