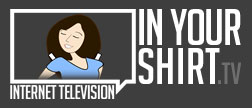 I had been into software/web development and designing since last 9 years and every day I come across a new unique website. The one I'm going to discuss today is no doubt the top of all my list, Girl.InYourShirt.tv.  Yes the name of the website says it all. Jenaé Plymale, a 20 years old girl put up her website and amazed the industry with a new creative idea.
Every day Jenaé comes up with a new website, wears the t-shirt of the website and tell the viewers what the website is about. Each new episode is published online to her website using YouTube. Slow Internet connection people don't have to worry because there is the low bandwidth version of the episode too. She had reviewed a lot of website and you can see all her episodes on her website.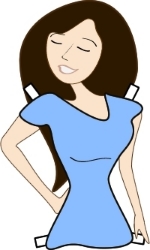 Just to earn a little extra pocket money this 20 years old girl gave a new concept to the Internet world. Many bloggers and website holders are now dying to get their website reviewed by Jenaé, not just because they like to advertise their website but also because Jenaé is an adorable cute girl. In her all episodes I have only seen her giving a very cute teddy bear smile which makes her review even more attractive. If I say that Girl.InYourShirt.tv is going to get a huge higher rank in the industry, then I won't be wrong. People all over the world are always attracted to a new thing and Yes! this is a new thing to experience.
A cute girl reviewing your website? Ain't that Cool? If you don't believe me you must check out her website or her photo album on Flickr.
Who says twitter don't help you promote the website? Whoever say this is wrong. Jenaé is rated as the best online short-films on twitter. You can follow her on twitter and get to know about all the updates about her.