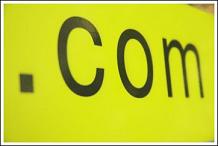 The Internet industry started in 1985 and the first .com domain "symbolics.com" was registered on 15th March, 1985. The company was a computer manufacturer which was known for its Open Genera Lisp and Macsyma computer algebra systems. Symbolics company was bankruptted in 90's and the domain was transfered to its new owners. This still makes symbolics.com to be the earliest registered .com domain which is still functioning.
Expiration Date: 2016-03-16
Creation Date: 1985-03-15
Last Update Date: 2006-12-20
The second .com domain was bbn.com (BBN Technologies) which was registered on 24th April 1985, a month after symbolics.com.
Expiration Date: 2011-04-25
Creation Date: 1985-04-24
Last Update Date: 2006-11-06
Xerox.com was the seventh .com domain registered on 9th Janurary 1986. HP.com was the ninth commercial dot-com domain, registered on 3rd March 1986.
In the first year (from March 1985 to March 1986) 14 .com domains were sold.
Here is the list of the first 100 .com commercial registered domains:
1. symbolics.com: March 15, 1985
2. bbn.com: April 24, 1985
3. think.com: May 24, 1985
4. mcc.com: July 11, 1985
5. dec.com: September 30, 1985
6. northrop.com: November 7, 1985
7. xerox.com: January 9, 1986
8. sri.com: January 17, 1986
9. hp.com: March 3, 1986
10. bellcore.com: March 5, 1986
11. ibm.com: March 19, 1986
12. sun.com: March 19, 1986
13. intel.com: March 25, 1986
14. ti.com: March 25, 1986
15. att.com: April 25, 1986
16. gmr.com: May 8, 1986
17. tek.com: May 8, 1986
18. fmc.com: July 10, 1986
19. ub.com: July 10, 1986
20. bell-atl.com: August 5, 1986
21. ge.com: August 5, 1986
22. grebyn.com: August 5, 1986
23. isc.com: August 5, 1986
24. nsc.com: August 5, 1986
25. stargate.com: August 5, 1986
26. boeing.com: September 2, 1986
27. itcorp.com: September 18, 1986
28. siemens.com: September 29, 1986
29. pyramid.com: October 18, 1986
30. alphacdc.com: October 27, 1986
31. bdm.com: October 27, 1986
32. fluke.com: October 27, 1986
33. inmet.com: October 27, 1986
34. kesmai.com: October 27, 1986
35. mentor.com: October 27, 1986
36. nec.com: October 27, 1986
37. ray.com: October 27, 1986
38. rosemount.com: October 27, 1986
39. vortex.com: October 27, 1986
40. alcoa.com: November 5, 1986
41. gte.com: November 5, 1986
42. adobe.com: November 17, 1986
43. amd.com: November 17, 1986
44. das.com: November 17, 1986
45. data-io.com: November 17, 1986
46. octopus.com: November 17, 1986
47. portal.com: November 17, 1986
48. teltone.com: November 17, 1986
49. 3com.com: December 11, 1986
50. amdahl.com: December 11, 1986
51. ccur.com: December 11, 1986
52. ci.com: December 11, 1986
53. convergent.com: December 11, 1986
54. dg.com: December 11, 1986
55. peregrine.com: December 11, 1986
56. quad.com: December 11, 1986
57. sq.com: December 11, 1986
58. tandy.com: December 11, 1986
59. tti.com: December 11, 1986
60. unisys.com: December 11, 1986
61. cgi.com: January 19, 1987
62. cts.com: January 19, 1987
63. spdcc.com: January 19, 1987
64. apple.com: February 19, 1987
65. nma.com: March 4, 1987
66. prime.com: March 4, 1987
67. philips.com: April 4, 1987
68. datacube.com: April 23, 1987
69. kai.com: April 23, 1987
70. tic.com: April 23, 1987
71. vine.com: April 23, 1987
72. ncr.com: April 30, 1987
73. cisco.com: May 14, 1987
74. rdl.com: May 14, 1987
75. slb.com: May 20, 1987
76. parcplace.com: May 27, 1987
77. utc.com: May 27, 1987
78. ide.com: June 26, 1987
79. trw.com: July 9, 1987
80. unipress.com: July 13, 1987
81. dupont.com: July 27, 1987
82. lockheed.com: July 27, 1987
83. rosetta.com: July 28, 1987
84. toad.com: August 18, 1987
85. quick.com: August 31, 1987
86. allied.com: September 3, 1987
87. dsc.com: September 3, 1987
88. sco.com: September 3, 1987
89. gene.com: September 22, 1987
90. kccs.com: September 22, 1987
91. spectra.com: September 22, 1987
92. wlk.com: September 22, 1987
93. mentat.com: September 30, 1987
94. wyse.com: October 14, 1987
95. cfg.com: November 2, 1987
96. marble.com: November 9, 1987
97. cayman.com: November 16, 1987
98. entity.com: November 16, 1987
99. ksr.com: November 24, 1987
100. nynexst.com: November 30, 1987
(Courtesy: PC World)