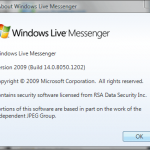 The long awaited Microsoft Windows Live Messenger 2009 is launched today. This new messenger is the part of the Windows Live Wave 3. The release of Live Wave 3 was announced yesterday at CES2009 by Microsoft. The personalized homepage of Live has also changed. It is not just a simple blog type or news type of page anymore. Home.Live.com is more of a social network type of site. You can see your emails, friends activity, see your blog posts and even your twitter, stumbleupon and other web events.
Download Microsoft Windows Live Messenger 2009
You can import the RSS feed of yours or other blogs including your personalized blog or the wordpress. Within few days the add-on for facebook will be out too as mentioned in the CES2009 keynotes of Microsoft. You can comment on the Status message of your contacts, yes the status message which your contacts keep in Windows Live Messenger.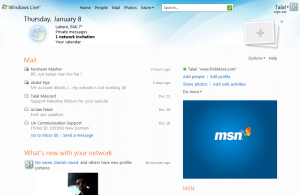 Rest of the screenshots for Windows Live Wave 3 were already posted by me months ago.