Microsoft have started a campaign for the poor and hungry people of United States of America , the campaign is named as Feed the Hungry.Well , users can see this advertise on the main page of MSN website.When user click on the advertise then an another window is opened with the name of "Browse for the better".
Vicki Escarra, president and CEO of Feeding America, the nation's largest domestic hunger-relief organization said that:
This summer, millions of families throughout the U.S. are living on the brink of hunger. Demand for food is higher than it has been in decades. The Browser for the Better campaign is both raising awareness of hunger and giving people an easy opportunity to help their neighbors at no cost to them. It's a win-win arrangement for Microsoft, Feeding America and people all across the country.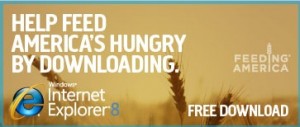 Well Microsoft describes in the campaign that:
Download Internet Explorer 8 and we will donate 8 meals to Feeding America.
Microsoft also describe that:
We are extending our efforts in support of Hunger Action Month.For every download of Windows Internet Explorer 8 from the site , we will continue to donate 8 meals to Feeding America .And during Hunger Action month , we will double that donation for people upgrading from Windows Internet Explorer 6.
Source [Microsoft News Press Release]