Being professionals we usually have more than one harddrive for our use. We need to keep them safe as we have a lot of data in it. But the problem is when we have to get some data from any old harddrive then we have to plug it each time to the computer. To change a hard drive again and again is actually a time taking process.
In order to ease this difficulty, use of Dual External USB SATA Drive Dock is certainly a wise decision to capture data from old harddrives or use them as backup without facing any further problems. Vantec NexStar introduced the Dual External USB SATA Drive Dock lets you to tie up two harddrives with computer by either a USB cable or eSATA connector.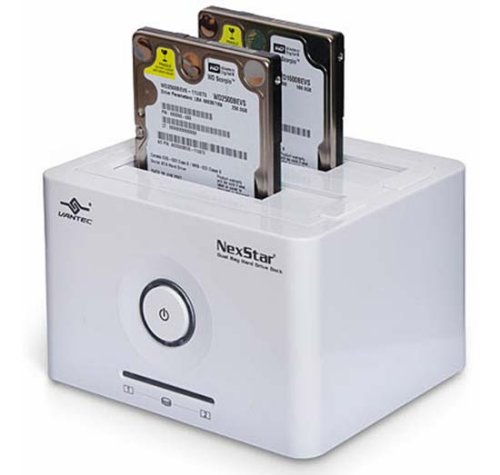 [ad#ad-taalz-inpost-right]The docking element enables hard drives to be exchanged by pushing the button on the bottom. There are two docks available but a single dock is capable of holding 1 hard drive at a time. It makes the storage inexpensive. By using External USB SATA Drive Dock, harddrives are being upgraded constantly. It has a few remarkable features such as it connects to one or two 2.5″ or 3.5″ internal SATA harddrives, allows USB or eSATA connectivity, its transfer rates are up to 480Mbps with USB and  up to 3Gb/s with eSATA.