Wireless headphones have always been the best ad-on for your iPods or any other player that you have.Its much effective than the used wired headphones,as you can move your head freely to the tunes you are listening and also because they look supercool.DigiFis Digital Opera wireless headphones are new in the market and give an amazing sound quality.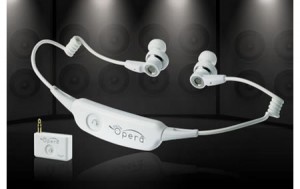 These sleek looking headphones have Kleer technology and work with a 3.5mm plug which can be plugged into your iPod,iPhone,Laptops or MP3 players.
The playback time is about 10hours which would be nice if you love to listen to your music a lot.It has a frequency range of like 20 to 30KZ.The most impressive is the 0.1percent distortion than enables you to have the very best of sound and enjoy to the fullest.
The price is 98$ 🙂