This article would be the center of attraction for almost all the gals and guys here who are owning their own website. Google Page Rank is one of the most trusted ranking of the websites considered on the Internet. The more your rank is the better your quality of website it. I came across a new website which helps you track your Google Page Rank.
CheckLive.info provides the facility to check your google page rank some other useful information such as link popularity, Alexa Ranking, Number of your website's results listed in Google, MSN, Yahoo, Altavista and AlltheWeb. The fading effect of the website looks cool too when you click on the Submit button.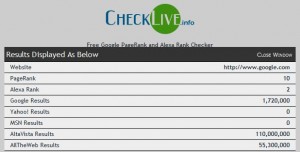 Within a few days they are going to start up a service for webmasters, the Page Rank Button on your website plugin script. This plugin code will help the visitors of your website to determine the PR of your website. The webmasters can place a code on their website and a small button will show their Google PR there as an image or text format.