Chattanooga (Tennessee) becomes the first city of US to have the 1Gbps Internet service for home users. A month back a Swedish mom installed a 40Gbps Internet connection at her home, I guess this launch for the US home users could be an answer to this. But still there is a huge difference in 40Gbps and 1Gbps 🙂
Comcast on the other hand was one of the fastest Internet service provider in US with its 105Mbps connection. EPB Fibre Optic (A local Chattanooga ISP) joined hands with Alcatel-Lucent to provide the extremely fast 1Gbps Internet connection for the home users.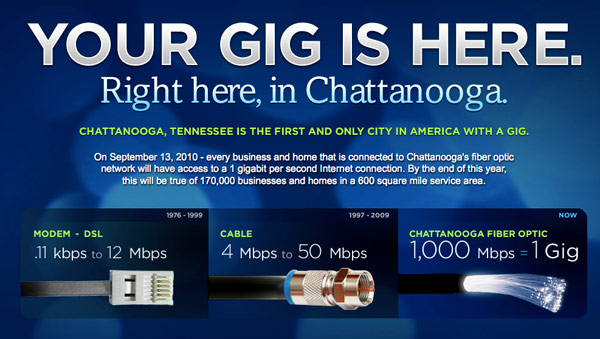 [ad#ad-taalz-inpost-right]Now the real question is how much this service cost? EPB 1Gbps connection cost $350/month. So, what do you think if you are living in the home tome of this south Tennessee city, are you going to get this connection? I still don't think that EBP will be able to sell these connections because of the such high rates. In Sweden the cost of 1Gbps for home users cost around $126. US being the biggest Internet consumer still has to offer 1GBPs at the double rate as compared to Sweden.
Via: Engadget