Apple had always made all the rumors in the market go wrong as per traditions. Everyone was hoping the name of the new Apple Tablet PC to be called as 'iTablet' but yesterday at the launch of that tablet pc millions around the world were simply surprised by the name they gave it, an Apple 'iPad'. Yes, it sounds funny and strange. I was thinking may be Steve's Windows Shut Downed and he couldn't think of a better name 😀
Apple yesterday at the launch of Apple iPad demonstrated a new slim and smart tablet PC named as 'Apple iPad' which has a multi touch screen, a 1GHz processor and many more. The best part of the product was it will be available in both 'only WiFi' and 'WiFi + 3G' models. Apple had always made things very expensive, but this time they changed their motto and iPad's price is just starting from $499.
But the question remains still there, that why apple called iPad an iPad? I guess, they were so much impressed by their iPod name that they didn't want change it. lol or may be they want to trick the customer. A customer asks for an iPod and the store delivers in iPad. 🙂 The trendy topic on twitter instead of being iPad was actually and amazingly 'iTampon'. Yes, everyone was calling it Apple iTampon. I mean why didn't Steve thought of that coming? Everyone on Facebook and Twitter were suggesting so much better names for the apple tablet PC like – iTablet, iPC, iMini or whatever but still Apple strangely chose the name iPad.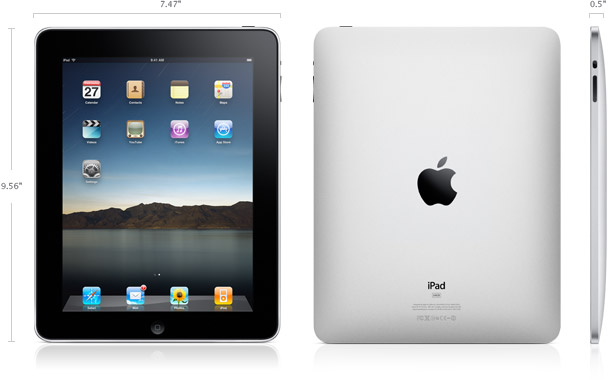 Following are the Technical Specifications of Apple iPad:
Processor: 1GHz Apple A4
RAM: Uknown (Apple didn't mention about it's ram)
[ad#ad-taalz-inpost-right]Camera: NO
Screen Size: 9.7 inches
Display: 1024 x 768 pixels resolution
Touch Screen: Multi Touch
Capacity: 16GB, 32GB, 64GB flash drive
Connectivity: Wi-Fi only and Wi-Fi + 3G
Video Playback: upto 720p high definition H.264
Audio: Built-in Speakers and Microphone. 3.5mm Stereo Audio Headphone Jack
Operating temperature: 32° to 95° F (0° to 35° C)
Nonoperating temperature: -4° to 113° F (-20° to 45° C)
Relative humidity: 5% to 95% noncondensing
Maximum operating altitude: 10,000 feet (3000 m)
Battery Life: upto 10 hours of using Wi-Fi, playing videos and listening music.