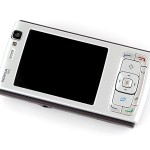 Nokia N95 is not that much old handset, but I am surprised to know that Nokia N95 is not available in the UK market anymore. You cannot buy a new Nokia N95 in UK anymore. I remember the time when Nokia N95 was launched and all the news and stuff about the handset. Yes no doubt, Nokia N95 was THE best handset by nokia at that time, with so many cool features and a good slider. Though Nokia N95 Slider had manufacturing faults in it, but still people never cared for it and its sale was quite good.
I'm sure pretty soon within the first quarter of year 2009 it will vanish from the market of USA too. The feature of Nokia N95 are still pretty much cool as compared to the other handsets launched even today. A 5 megapixel camera with Carl Zeiss Optics lens, a good processor, ram, memory. Inshort everything in the Nokia N95 is cool, especially it had the buildin GPS Receiver.
Features of Nokia N95:
Resolution: 5 megapixel (2592 x 1944 pixels). Also 3mp, 2mp, 0.8mp and 0.3mp. 
Zoom: 20x Digital Zoom. No optical zoom 
Lens: Carl Zeiss Optics Vario-Tessar lens 
5.6mm focal length 
Auto-focus 10cm – infinity 
Shutter speed: 1/1000 – 1/3s 
Video spec: VGA 640 x 480 @ <30 frames per second, mp4 or 3gp, AAC sound 
Memory card: Micro-SD. I have a 6 Gb card in mine, and it can support upto 8Gb. 
Flash: LED type. Auto/on/off/red-eye.