Few days back I posted exclusive hands on pictures of Huawei Honor U8860 which is going to shake the mobile phone industry by bringing in the most affordable high end and powerful android based smartphone. A 1.4Ghz processor, 4-inches capacitive touch screen and 8 megapixel camera is what it all takes. Today, I am posting the pictures of iPhone 4 and Huawei Honor U8860, a side by side design comparison. Huawei Honor is a bit fatter than iPhone 4 but has a larger screen and height than iPhone 4. The weight of both handsets are almost same and very well distributed.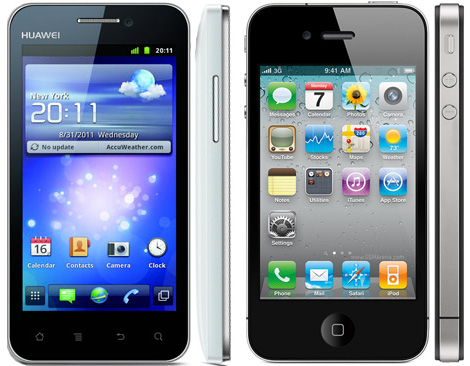 iPhone 4 vs Huawei Honor
iPhone 4 vs Huawei Honor – Front Look
Huawei Honor and Apple iPhone 4 looks quite similar from the front with the black panel on the four sides. The camera of iPhone 4 is on the left side of the ear-piece whereas it's on the right on Huawei Honor. iPhone has made their interface easy for the users by keeping just one single home button at the bottom, whereas the navigation panel of Huawei Honor has four touch button of Home, Menu, Back and Search.
iPhone 4 vs Huawei Honor – Side View
Huawei has changed the default position of the power button. Initially when I started using it, by default my finger used to try to press the power button on the right side. Huawei Honor's power button is on the left and the 35mm audio pin port at the right. On the left side there are the volume keys and the right side has no key. Just like iPhone there is no dedicated camera shutter key button. The bottom of Huawei Honor looks very simple and has the only the microUSB port and a small hole for the microphone. iPhone 4S on the other hand has the huge cable connection port as well as the speaker and mic on both sides.