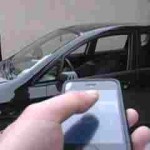 As you all already know that Apple iPhone and iPod are the hottest gadgets of this decade. The best part of these gadgets is that you can put new apps in it and get more out of it. Millions of developers around the world are working daily on developing new apps for iPhone and iPod. Yesterday I came across a very unique app called "iCar Remote". I saw its video on youtube and I was stunned that can iPhone really do this? It was kind of impossible.
[youtube f1WyyvNo1Sc nolink]
[ad#ad-taalz-inpost-left]But later, when I researched about it over the Internet, I found that its just a fake video. Gizmodo also posted the video about this iCar Remote Apple iPhone Apps and declared it as a fake app. But, still in the end I guess the concept given in this video is quite amazing and developers should work on it. May be they can come up with something like this.