In my earlier article about the Hands on: HTC Radar I mentioned few things about the handset. Windows Phone 7.5 is now out of the beta phase and getting quite mature slowly. There are still some things which are left to manage in WP7.5 and I'm very hopeful that they will all be fixed in the upcoming Windows Phone 8. I managed to take some photos of the body build comparison of HTC Radar and Applie iPhone 4 side by side. HTC Radar is almost the same in size as Apple iPhone 4/4S
Apple iPhone 4S vs HTC Radar
If you look at the front side HTC Radar looks a bit bigger in height as compared to iPhone 4/4S. The front camera is on the top left side above the screen on HTC Radar. The silver lining around the front panel looks pretty good and the overall look of this white color handset gives an elegant feeling.
On the side of the handset, there are volume buttons and the camera shutter click button, whereas iPhone 4/4S has only the volume keys and the lock button. The other side of the HTC Radar has the microUSB port.
HTC Radar has nothing at the bottom except the small pore of the mic, whereas iPhone 4/4S has speakers and the USB connectivity port.  If both the handsets are placed at the table top, HTC Radar looks a bit thicker than iPhone 4/4S.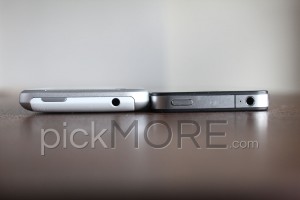 The top of the handset looks quite similar with the power button on the top right and the microphone 3.5mm pin port on the left.
If we look at the weight of both handsets, then HTC Radar is lighter than iPhone 4S. HTC Radar is 137g and iPhone 4S is 140g in weight. End of Apple iPhone 4S vs HTC Radar photo side by side comparison.