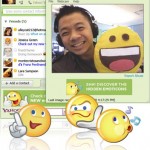 After a long long period of Beta finally Yahoo! released their new Messenger. The look of the Yahoo Messenger 9.0 has been changed and the new look is a little troubling for new users. We have been using the old look since so long and the users were used to of that look. But the new look espeically the Windows Vista supported Yahoo! Messenger 9.0 is an entire change of the outlook.
All the rest of the features of Yahoo! Messenger are almost the same as old one. But there is something strange with the versions on different operating systems. Microsoft Windows XP compatible Yahoo! Messenger 9.0 has all the features, but Windows Vista has limited features. I wonder why Windows Vista's features are less, though Microsoft is promoting Vista on a massive scale.
Following are the total list of features of Yahoo! Messenger 9.0
Communication
Instant Messaging: Send text messages in real-time to your friends on Yahoo! or Windows Live™ Messenger.
Chat Rooms: Join a chat room to meet new friends while you discuss your favorite topics.
Photo Sharing: Share photos from your desktop or Flickr, then discuss them over IM while you and a friend view them together.
PC-to-PC Calls: Make a voice call to another Yahoo! Messenger user for free (microphone and speakers/headset required).
Phone Out (PC-to-Phone Calls): Call friends on their regular or mobile phones from Messenger for as low as 1¢ a minute (Phone Out account required).
Phone In (Get a Phone Number for Messenger): Get a new phone number that allows you to receive calls in Yahoo! Messenger (Phone In account required).
SMS (Text Messaging): Send text messages from Messenger to your friends mobile phones for free.
Webcam: Plug in your webcam to share live video with your friends on Yahoo! Messenger.
IM Conferencing: Instant message with many friends at once in a conference room (includes voice capabilities, where available).
IM with Friends on Other Networks: IM with friends who use Windows Live™ Messenger, Reuters Messaging, and Lotus Sametime — right from Yahoo! Messenger.
File Transfer: Send files instantly to a friend while you IM (2 GB limit).
Productivity
IM Forwarding to Mobile: When you sign out of Messenger, have new IMs sent to your phone as text messages.
Contact Search Bar: Quickly find a contact to IM, call, SMS or more.
Yahoo! Search: Start a web search right from your Yahoo! Messenger window.
Yahoo! Address Book: View and edit your Yahoo! Address Book information for your contacts right from Messenger.
Stealth/Privacy Settings: Make yourself appear online to some friends, and offline to others.
Call Forwarding: Have incoming calls to Messenger forwarded to another phone number, even if you're signed out (Phone Out account required).
Yahoo! Mail alerts: Get notified when new a new Yahoo! Mail message arrives.
Voicemail: When friends call you on Yahoo! Messenger, they can leave you a voicemail if you're unavailable.
Message Archiving: Maintain a private archive of your IM conversations.
Buzz Alert: Get your friend's attention with a click of the Buzz button.
Yahoo! Updates: Get real-time updates in Yahoo! Messenger about what your friends are posting online, reviewing and generally buzzing about
Fun & Personalization
Plug-ins: Add content, services and games to Messenger that you can enjoy on your own, or with friends while you IM.
Audibles: Send an animated, talking character to a friend to liven up your IM conversation.
Emoticons: Express your feelings with these animated, smiling faces.
Avatars: Represent yourself with a stylized, graphic image where you can choose the hair, clothing and more.
Display Images: Display an image to represent yourself to your friends.
Skins: Choose a different skin to give your IM world a new look.
IMVironments: Liven things up with interactive, themed backgrounds in the IM window.
Yahoo! Games: Play a game of pool, backgammon, checkers and more with a friend while you IM.
Custom Status Messages: Tell your friends what you're doing, seeing or feeling by customizing your online status message.
Custom Ringtones: Assign ringtones to different callers, or upload your own audio files to use.
Customizable Fonts & Colors: IM with a font, color and style that suits your personality.
Sound Effects & Soundtrack (During Voice Calls): Throw a sound effect in while you're on a call or upload a music file to play as a soundtrack in the background.
(Note: Features of Yahoo! Messenger are taken from Yahoo Messenger's official website http://messenger.yahoo.com)