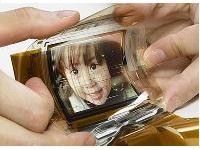 Sony has brought to CES a flexible color OLED (organic light-emitting diode) screen that could be seen in future, highly portable electronics devices.
The screen, dubbed "Flex OLED" by Sony, is just a few inches across, is manufactured on a thin sheet of plastic and can be gently bent while it's showing video.
Its appearance at Sony CEO Howard Stringer's Thursday morning keynote is the first time the screen has been seen outside of Sony's research and development labs and the first time it's been seen live.
Sony previously released a video of the screen in May 2007 but the prototype shown had numerous defects — an indication of the early stage of the technology. The version shown on-stage Thursday appeared largely free of defects.
OLED screens have pixels that contain an organic material that emits its own light so no backlight is needed. That helps make the displays thinner and reduces power consumption. OLED screens also handle fast-moving images better and offer richer color reproduction than current LCDs and PDPs (plasma display panels), but they remain expensive to produce.
At last year's CES Sony launched the industry's first OLED television, the 11-inch XEL-1 that costs about US$2,500. At this year's CES there aren't any new commercial OLED TVs, but Sony is showing a new 21-inch, nonflexible screen alongside a previously unveiled 27-inch prototype.
Speaking at a conference in May last year, Stringer said a new OLED TV based on a 27-inch panel would be coming "within the next 12 months." No update on that schedule was offered on Thursday, but Stringer did say the next step for the technology would be a TV in the 20- to 30-inch class.
Via: [NetworkWorld]