Intel held a bloggers meet up in Pearl Continental Hotel Lahore on March 15th 2012 to demonstrate their new UltraBook technology. They wanted to unveil the amazing new UltraBook to the bloggers because these are the people who can actually tell about the pros and cons of the product. The world has changed from just 'media' into 'social media'.
Intel demonstrated two models of Intel UltraBooks – Acer and Asus, which are available in Pakistan right now. HP and Dell are on its way around mid of June and the Intel Core processor Sandy Bridge will complete in UltraBook series by then. If I look at the advantages of having an UltraBook, I can see quite a few and talking about disadvantages, I don't find any except the small screen size. You get big battery time i.e. up to 8 hours, light weight as feather, portable, ultra responsive, speed, hence everything is in it.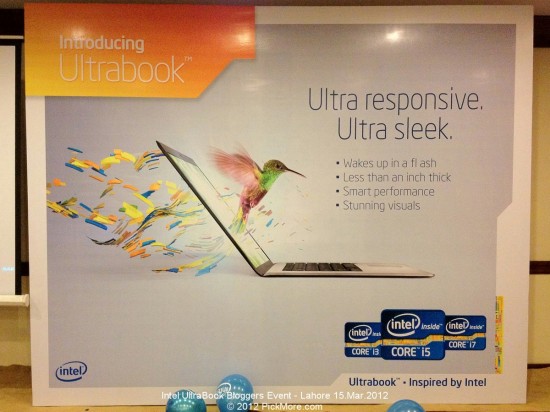 Intel's 3rd Generation Core Processor "Ivy Bridge" series will be coming out by the mid of 2012 which will increase the performance and battery life of UltraBooks more. In 2013 the Intel's 4th Generation Core Processor "Haswell" will be a record breaking series which will give 20 times more power to the current processor especially to the battery life. If I do a rough calculate 20 times of the current 8 hours standby is 160 hours, i.e. around 6 days of standby.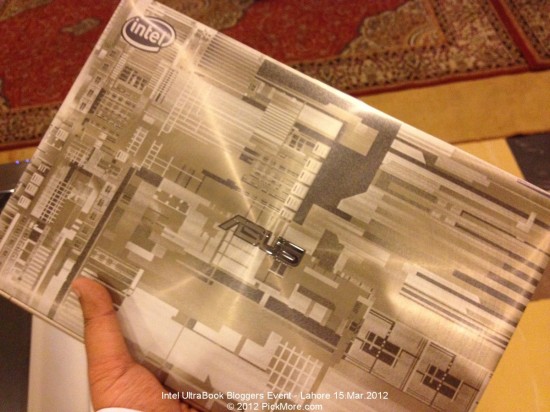 The Asus UltraBook was a center of attraction for me because of the beautiful texture on the back and the body build was excellent. Asus on the other hand used a plastic body to reduce the weight. Asus UltraBook was best and I was pretty amazed with the sound quality and speaker volume which was quite high as compared to Apple MacBook Air. Though Asus was a bit heavier than expected but with the Ultra Responsive effect it took my heart away.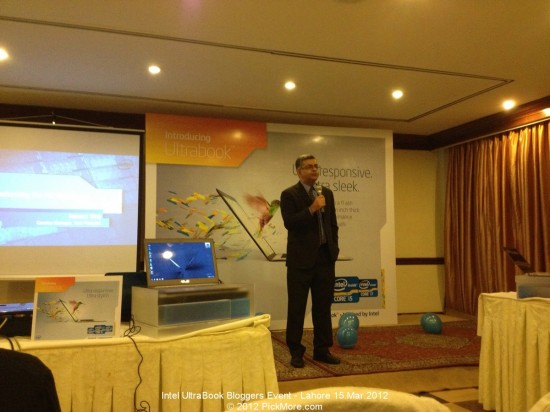 Mr. Naveed Siraj, Country Manager Intel Pakistan was the guest speaker at the event and unveiled the possibilities of Intel UltraBook and told the bloggers what is available in the market and what is yet to come from Intel. Whether it's gaming or simple office usage, Intel Core i5 and Core i7 UltraBook does it all.
Photo Gallery:
Following is the fact sheet of the Intel UltraBooks:
Intel's research shows that people want technology to help them get things done, to be more productive, and to learn and advance themselves. People also want to be in control, know that their identity is protected, and that their data can be safeguarded if a computer is stolen or lost.
People want to express themselves and create, whether it's putting together an online photo scrapbook, editing the next blockbuster family movie, creating a blog, or creating music. They want to connect with others and share those creations. They also want seamless, immersive experiences, be it while playing a game, watching the latest show or movie, or simply surfing the Web, or putting the polishing touches on that big presentation. The Ultrabook device aims to deliver on all of these desires and more.
The new class of 'must-have,' no-compromise notebooks will increasingly deliver best-in-class performance, built-in security and will be ultra responsive and ultra sleek in thin, light and sexy designs. With substantially longer battery life and offered at mainstream price points, Intel expects the Ultrabook device to be as transformational to mobile computing as Intel® Centrino® Mobile technology was more than eight years ago. The first Ultrabook devices hit the market for holiday 2011, with more coming in 2012.
Highlights
The Ultrabook device is an emerging new breed of no-compromise computers that will increasingly combine best-in-class performance, improved responsiveness and battery life, and built-in security in thin, elegant, must-have mobile designs.
Ultrabook devices will arrive in three phases, each adding more exciting features (touch, security, faster wake-on-resume, etc.) and sleeker, thinner designs, beginning with initial coming to market for holiday 2011.
Intel is investing significant money and resources to create and accelerate the Ultrabook device category. This includes the $300 million Ultrabook Fund from Intel Capital that invests in companies around the globe that are innovating in hardware, software, battery technology, and design.
Key Ultrabook™ Targeted Features
Thin/light designs: Less than 21 mm thick; some are much thinner.
Ultra-fast start-up: In addition to supporting third-party solutions, Intel is developing and bringing to market capabilities that improve the appeal of Ultrabook designs.  For example, Intel® Rapid Start Technology gets your system up and running faster from even the deepest sleep, saving time and battery life. The system wakes up almost instantly and gives users quick access to their data and applications.
Extended battery life: Ultrabook devices offer between 5 and 8 hours of battery life, even in the sleekest form factors, and last much longer when not in use than traditional notebooks.
Security enabled: An Ultrabook is also enabled with features that help protect itself and its user.  Ultrabook bios/firmware is enabled to expose hardware features for Intel® Anti-Theft Technology and Intel® Identity Protection Technology.
Processor: Powered by Intel® Core™ Processor Family for Ultrabook™.
Future Specifications
As with Intel Centrino mobile technology, the transition to the new "ultra" era of mobile computing will take significant work across the industry and it will take time. Ultrabook devices will arrive in three phases, each adding more must-have features and sleeker, thinner designs. The first phase is already underway, as initial Ultrabook devices based on 2nd generation Intel Core processors started arriving in the market in 2011. Phase two continues in 2012 with Ultrabook devices based on "Ivy Bridge." And phase three starts in 2013, when Intel expects the majority of the market to have undergone the conversion to Ultrabook devices with its next-generation "Haswell" processor.
2012 models based on Intel's 3rd generation Intel Core processors (codenamed "Ivy Bridge") are expected to deliver greater gen over gen performance, faster graphics, and greater variety of screen sizes, models and form factors.
2013 models based on Intel's next generation "Haswell" processors will deliver longer connected standby battery life (more than 10 days expected in some cases), as a result of the more than 20x anticipated reduction in connected standby power in "Haswell".