Most of the Free Download websites, which are generally called Warez websites upload the softwares, applications, games, movies, music, etc. to free uploading websites like Rapidshare. Rapidshare is one of the BIGGEST free file hosting website service. Rapidshare's storage servers have several petabytes (1PetaByte is equal to 1Million GigaBytes).
There are many internet users who are afraid of Rapidshare and don't even have the idea that how to download the files from rapidshare website. Please note that the Rapidshare appearance may change from time-to-time but they procedure of downloading will remain something similar to my this guide.
This guide is How to Download File from Rapidshare website as a Non-Premium User (General Free User).
1- Open the Rapidshare file link. On the first screen you will see two options. Free User and a Premium User. You need to click on the Free User button.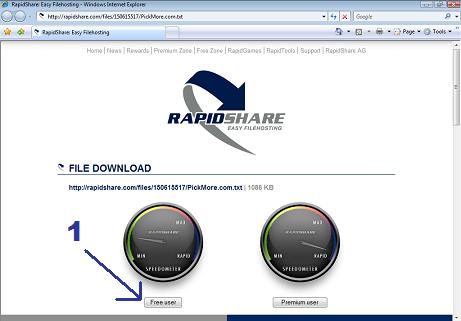 In this guide I'll take an example file URL that I uploaded myself onto Rapidshare.
The filename is PICKMORE.COM.txt
http://rapidshare.com/files/150615517/PickMore.com.txt
2- On the next page, there will be a timer count down. As soon as the timer count down will reach ZERO. It will show you the download button.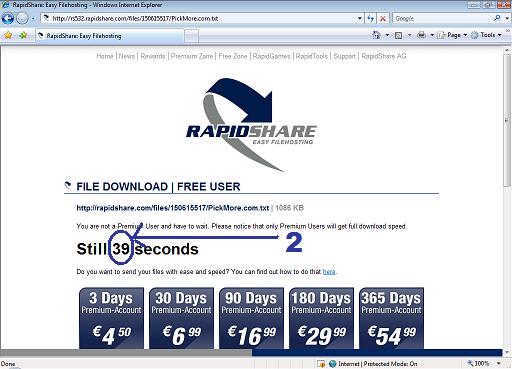 3- Now simply click on the Download Button and Download your file.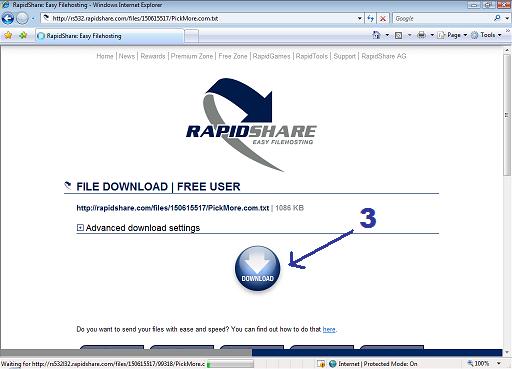 Only one thing is that as a free user you will get a limited 50KB/s download speed. You cannot use any download manager AND the resume feature is not supported as a Free User.
Check out the How-To Guide Category of my blog to see other useful guides including How to Download from Megaupload, How to Download from Easy-Share and How to Join Files using HJSplit (i.e. How to join .001 .002 extension files)