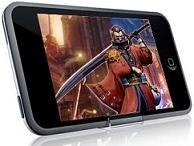 Apple iPhone is getting popular day by day. Recently Apple released their new firmware version of iPhone 2.2 which is available to download for free and letting users upgrade their iPhone mobile handsets. New users of iPhone find it quite difficult to find games for iPhone. Therefore, I am posting the Top 20 free games of Apple iPhone.
Please note that you need to have Apple iTunes software installed on your machine to access these games.
All these downloads are provided directly with the iTunes App Store Links. I will not be held responsible for any kind of misuse or any mishap.