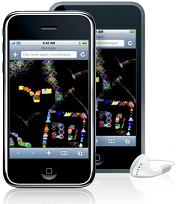 Doodle Kids is a new Apple iPhone application which is designed by a 9 years old boy. Lim Ding Wen a 9 years old boy student from Singapore. Lim said that he made this Application for his younger sisters who are 3 and 5 years old. Doodle Kids is an Application for children who likes to draw and paint. Doodle Kids allow you to draw/paint using your fingers and then to clear the screen you need to shake the screen.
In just first two weeks 4,000+ downloads were made of this App. Lim's father is an Apple iPhone developer too. Lim is currently busy making another App for iPhone – It is a fiction game called "Invader Wars"
About Doodle Kids
A painting program for kids, written by the 9 year old programmer Lim Ding Wen. This is the port of the Apple IIGS version, including the original Super Hires color palette.
Doodle Kids allows kids to draw random shapes in random colors and sizes.
Tap the screen with two fingers to clear the screen.
Tap the screen with three fingers to set the screen to random color.
Company: Virtual GS
URL: Doodle Kids
Application Post Date: January 19, 2009