Apple couple of weeks ago released iOS 4.3.1 which was an upgrade to iOS 4.3 and now we are hearing the news that Apple is again going for an update within next two weeks with iOS 4.3.2. The expected date of release is around 25th of this month (April, 2011). There were some flaws left in the iOS 4.3.1 which are annoying users, so Apple decided to handle them before its too late.
It's been just a week since the release of iOS4.3.1 untethered jailbreak with snOwbreeze 2.5 available for download so that the users who upgraded their iPhone, iPad, Apple TV 2 or iPod Touch could jailbreak their gadgets. Only iPad 2 was not under the hood of jailbreak. According to iPhone Dev Team "The reason the untether won't work as-is on the iPad2 is that it requires a bootrom or iBoot-level exploit to install, and the iPad 2 is not susceptible to either the limera1n or SHAtter bootrom exploits". I guess Apple just found out the way to stop these hackers to jailbreak their product.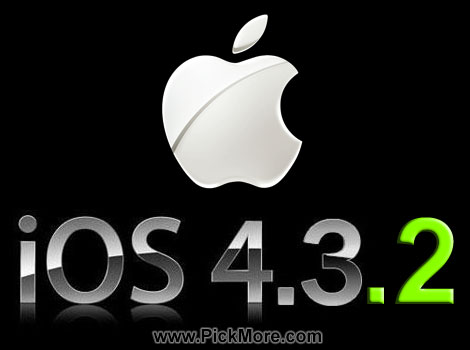 On the other hand, iPhone 4 and iPhone 3GS users were complaining a lot that their handset battery drains faster since they upgraded to iOS 4.3. Few weeks back, I posted a guide on this too that how to fix battery life problem on iOS4.3.
[via: BGR]