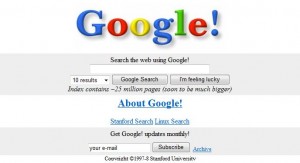 1. Do you know that the name "Google" is a typo? Initially the founders of the site thought that they were going for "Googol".
2. Are you aware of the fact why Google page is so simple? Its because the founders really didn't know about HTML and so they wanted a quick interface.
3. Co-founders of Google.com, Mr. Larry Page and Mr. Sergey Brin started Google as a research project when they were 24 and 23 years respectively. Isn't is very encouraging?