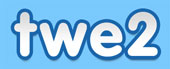 Twe2 is a new website which started their service from UK and now gradually expanding it worldwide. Twe2 is a free SMS service for twitter. By signing up with Twe2 you can receive Direct Messages and @Replies to you from your followers right on your mobile phone in the form of SMS. I'm living in Pakistan and I signed up with this service and its looking pretty cool to me.
Twe2 service is currently limited to some of the countries. Twe2 is using Wadja Network at the backend to send twitter free SMS alerts to the users. In return the users have to bear a little advertisments from the network. Twe2 is developed by the same guys who own tweba.com and frienddeck.com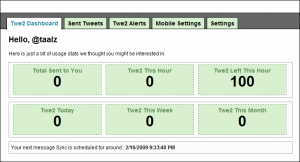 You can set the frequency of SMS alerts that you want to receive. I'm twitting all the time so I set it to 100 alerts per hour.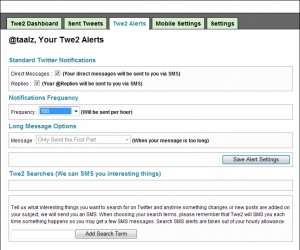 [ad#ad-taalz-inpost-right]Twe2 service is currently available in the following countries only.
| | |
| --- | --- |
| Afghanistan | Albania |
| Algeria | Andorra |
| Angola | Antigua & Barbuda |
| Argentina | Armenia |
| Aruba | Australia |
| Austria | Azerbaidjan |
| Bahrain | Bangladesh |
| Barbados | Belarus |
| Belgium | Belize |
| Benin | Bhutan |
| Bosniaand Herzegovina | Botswana |
| Brazil | British Virgin Islands |
| Brunei Darussalam | Bulgaria |
| BurkinaFaso | Burundi |
| Cambodia | Cameroon |
| Canada | Cape Verde |
| Cayman Islands | CentralAfricanRepublic |
| Chad | Chile |
| China | Colombia |
| Comoros | Congo |
| Cook Islands | CostaRica |
| Croatia | Cuba |
| Cyprus | Czech Republic |
| Democratic Republic of the Congo | Denmark |
| Djibouti | Dominican Republic |
| Ecuador | Egypt |
| Estonia | Ethiopia |
| FaroeIslands | Fiji |
| Finland | France |
| French Polynesia (France) | French West Indies (France) |
| Gabon | Gambia |
| Georgia | Germany |
| Ghana | Gibraltar |
| Greece | Greenland |
| Guadeloupe | Guadeloupe (France) |
| Guatemala | Guinea |
| Guinea-Bissau | Guyana |
| Honduras | HongKong |
| Hungary | Iceland |
| India | Indonesia |
| Iran | Iraq |
| Ireland | Israel |
| Italy | Ivory Coast |
| Jamaica | Japan |
| Jordan | Kazakhstan |
| Kenya | Korea |
| Kuwait | Kyrgyz Republic |
| Laos | Latvia |
| Lebanon | Lesotho |
| Liberia | Libya |
| Liechtenstein | Lithuania |
| Luxembourg | Macao |
| Macedonia | Madagascar |
| Malawi | Malaysia |
| Maldives | Mali |
| Malta | Mauritania |
| Mauritius | Mexico |
| Micronesia | Moldova |
| Monaco | Mongolia |
| Montenegro | Morocco |
| Mozambique | Myanmar |
| Namibia | Nepal |
| Netherlands | New Caledonia |
| NewZealand | Nicaragua |
| Niger | Nigeria |
| Norway | Oman |
| Pakistan | Palau |
| Panama | Papua New Guinea |
| Paraguay | Peru |
| Philippines | Poland |
| Portugal | Qatar |
| Romania | Russian Federation |
| Rwanda | Rzunion |
| Saint Pierre and Miquelon | Samoa |
| SanMarino | SaoTomeand Principe |
| Saudi Arabia | Senegal |
| Serbia | Seychelles |
| Sierra Leone | Singapore |
| Slovakia | Slovenia |
| South Africa | Spain |
| SriLanka | Sudan |
| Suriname | Swaziland |
| Sweden | Switzerland |
| Syria | Taiwan |
| Tajikistan | Tanzania |
| Thailand | Togolese Republic |
| Tonga | Trinidad and Tobago |
| Tunisia | Turkey |
| Turkmenistan | Uganda |
| Ukraine | United Arab Emirates |
| United Kingdom | United States |
| Uruguay | Uzbekistan |
| Vanuatu | Vatican |
| Venezuela | Vietnam |
| Yemen | Zaire |
| Zambia | Zimbabwe |